Heute, am 02.11.2017 bin ich in der BILD Frankfurt auf Seite 11 und im Online-Artikel zu sehen
English readers please scroll downnn...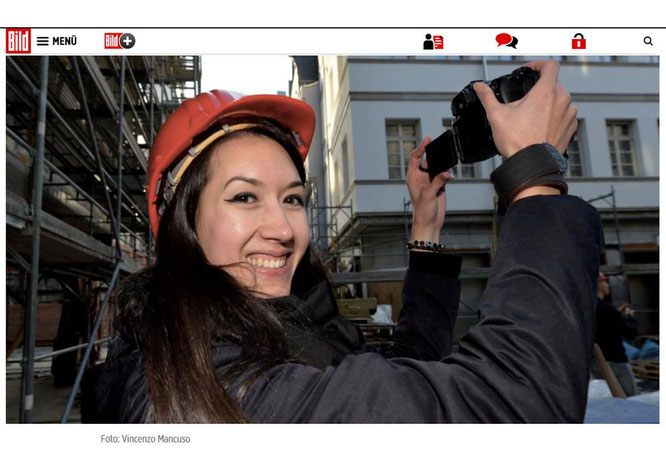 Wer kann schon von sich behaupten, dass er mal in der BILD war? :D
Ob das jetzt ein Erfolgserlebnis oder der Absturz ist, sei mal dahin gestellt.
(Kleiner Scherz am Rande).
Die Reporterin Lisa Goedert war jedenfalls sehr sympathisch und überredete mich schnell zu einem kleinen Interview.
Von meinem Monolog über meinen Background als Hiphop-Fotografin, über Facebook vs. Instagram, Techniken, neue Follower zu gewinnen und (vor allem bei meinem Fall, wie man sie verliert XD), meinem Doppelleben als Frankfurt- und Istanbul-Streetfotografin und dann auch noch gemixt mit Hiphop-Eventfotografie mit einem einzigen Account, virtuellen Freundschaften und einigen anderen Themen, begeisterte meine Lovestory mit Bora am meisten.
Sofort glänzten Lisas Augen als ich davon erzählte, dass Bora aufgrund des Visums noch nie in Frankfurt war, und ich deshalb anfing, ihm die Welt aus meinen Augen zu zeigen.
Von dem ganzen Interview schaffte es also nur der folgende Satz in den Artikel:
"In Christina Hambuchs (30) Account @marykwizness steckt viel Romantik: Ihr Freund lebt in Istanbul, für ihn hatte die Sekretärin begonnen, ihre Stadt zu fotografieren. Mittlerweile gefällt fast 1600 Followern ihr liebevoller Blick für Details."
Irgendwie putzig. Früher wäre ich extrem angepisst gewesen, dass man mich als Künstlerin auf irgendein verliebtes Mädel herabstuft.
Jetzt finde ich es eigentlich ganz cool, dass meine Story heraus sticht. Bei den anderen Fotografen, die interviewt wurden, steht fast das gleiche, was ich auch gesagt habe.
Beispiel Ralf Otterbein: "Ich suche unbekannte Perspektiven und Ecken, möchte Frankfurt zeigen, wie man es noch nicht gesehen hat." Meine Rede, wortwörtlich.
Genauso wie das Problem, das ich mit meinem Ostend-Nachbarn Björn Mika aka @millerneutron teile: "Ich hab auch mal Essen gepostet, das gefiel meinen Abonnenten nicht so sehr."
Mit dabei im Interview waren übrigens noch der sympathische Benjamin Wolf alias @benorama_photography und Niko Muth mit dem Account @nikolator, den ich allerdings nicht persönlich kennengelernt habe.
Aufgrund ihres schlechten Rufs hatte ich schon Befürchtungen, dass die BILD mir irgendwelche politischen Parolen in den Mund legt, die mein Leben völlig zerstören, oder meinen Kopf auf irgendwelche nackten Tussis montiert, aber ich bin positiv überrascht, wie nett das Team war. Auch mein ungestelltes Portraitfoto (hahah) von Vincenzo Mancuso finde ich gar nicht so furchtbar wie befürchtet.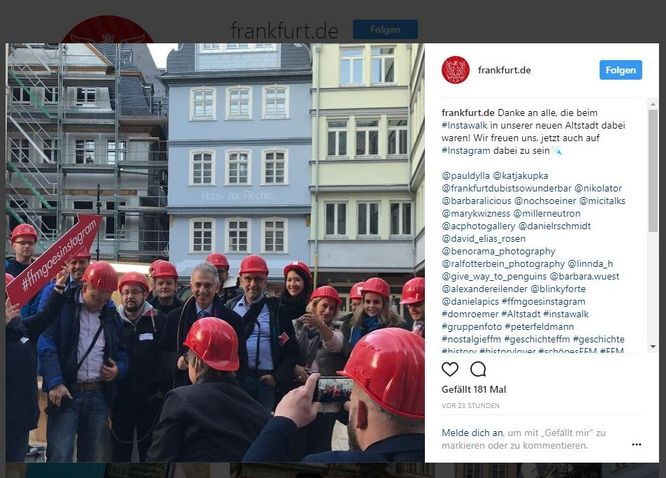 Hintergrund der ganzen Sache war der Instawalk mit 20 eingeladenen Frankfurt-Instagrammern und dem Oberbürgermeister Peter Feldmann, der uns höchstpersönlich durch die Neue Alstadt führte und uns mit historischem Hintergrundwissen fütterte. Anlass war der erste Instagram-Post der Stadt Frankfurt auf @frankfurt.de, den wir live mit Sektempfang und Brezeln feierten. :D 
Alle Fotos vom gestrigen Instawalk findet man unter dem Hashtag #ffmgoesinstagram.
Wenn ihr meine neuen Posts vom Instawalk mitverfolgen wollt, folgt mir auf Instagram @marykwizness .
Danke fürs Lesen! :)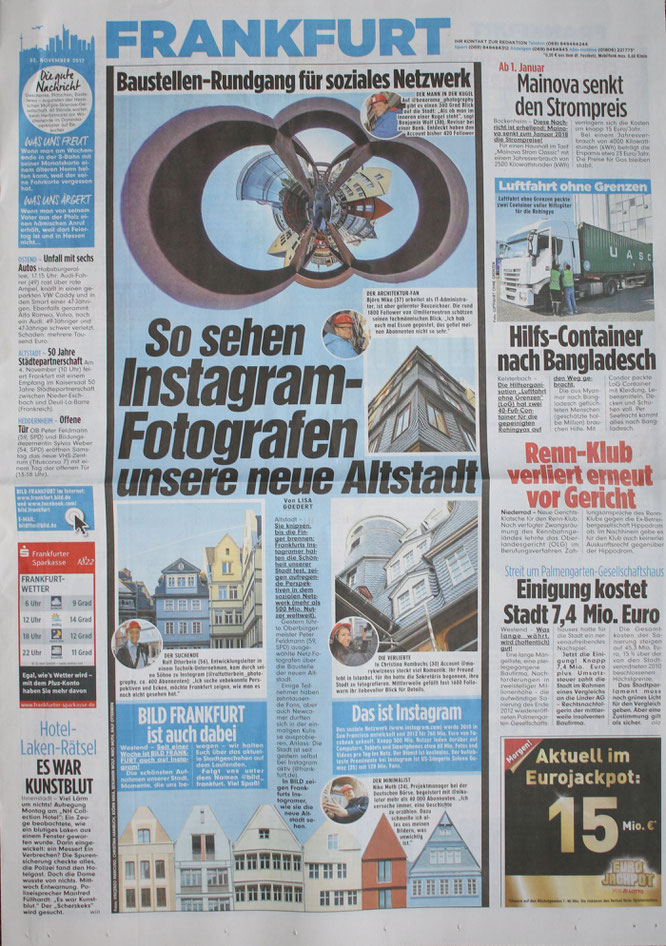 For my English readers:
To celebrate the launch of their Instagram account, the city Frankfurt invited 20 photographers to visit the construction area of a new city highlight, the "New Historic City", a reconstruction of the old destroyed city center of Frankfurt. The mayor of Frankfurt guided us and told a lot about the history of this area. 
Later I was interviewed by the German paper "BILD Frankfurt" about myself, my work, my account, how and why I started Instagram etc. What the reporter liked most, was my long distance relationship with Bora and that I started Frankfurt streetphotography to show him my daily life and environment.
So they wrote "Christina Hambuch's (30 y.o.) account @marykwizness is very romantic: her boyfriend lives in Istanbul. She started shooting her city for him. By now 1600 followers like her loving eye for detail."
If you want to see all photos from yesterday's instawalk, search for the hashtag #ffmgoesinstagram
My photos will be posted on my Instagram account @marykwizness soon.
Thanks for reading. :)
UPDATE: I uploaded my shots from the Instawalk on this little gallery: