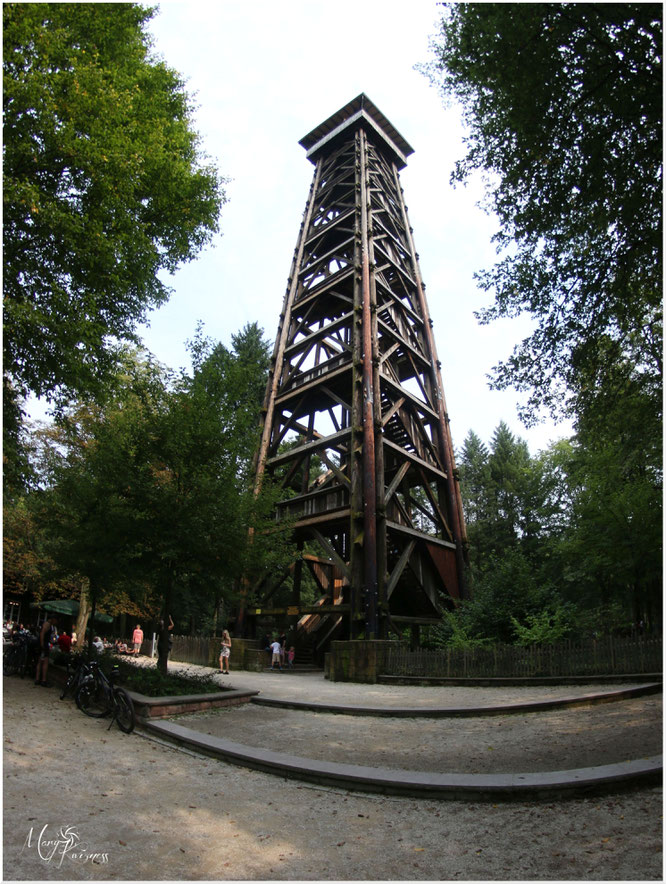 Als ich heute Morgen davon hörte, dass der Goetheturm abgebrannt ist, stand erstmal mein Herz still.
Einer meiner absoluten Lieblingsplätze in Frankfurt soll nun einfach nicht mehr existieren.
Dann auch noch die dritte Schocknachricht in diesem Jahr, nachdem schon im Chinesischen Garten und im Koreanischen Garten die Pavillons abgefackelt worden waren.
Aber der Verlust "meines" Goetheturms traf mich noch härter. Es war wie ein Insider-Chillout-Spot. Die coolen Kids chillen auf der Treppe an der Hauptwache, ich ging lieber im Stadtwald spazieren.
Als ich 2012 nach Oberrad an den Stadtwald zog, erzählte mir meine Mutter (die gerne Zahlen und Fakten verdreht XD) von dem "200 Meter hohen Holzturm im Wald" (eigentlich 43 Meter).
Es war Liebe auf den ersten Blick. Sogar meinen Bruder, den absoluten Frankfurt-Hasser vom Dorf, konnte ich damit begeistern.
Meine Freunde, denen ich die letzten Jahre vom Goetheturm erzählt hatte, kannten ihn entweder gar nicht, oder waren noch nie persönlich dort gewesen. Immer wieder hieß es "wir müssen mal dahin", jetzt ist es zu spät.
Die ersten 5 Stunden des Tages habe ich in stiller Trauer verbracht. Nostalgisch die sprießenden R.I.P.-Posts auf Instagram durchgescrollt, bis mir dann ein positiver Gedanke kam:
Ich bin nicht die einzige, die traurig und wütend ist. Ganz Frankfurt trauert und teilt so einen riesigen Haufen Liebe für den Goetheturm, dass es schon wieder ein schönes Gefühl ist.
Und bald wird er wieder neu aufgebaut.
For my English readers:
Last night one of the most beautiful places in Frankfurt was burnt down by some mf idiot/s. It was a 43 m high wooden tower in the forest, called "Goethe Tower". The panoramic view of the city was amazing!
It has already been the third arson in 2017, after the wonderful pavilions of the Chinese Garden and Korean Garden in Frankfurt were burnt down.
If you like my photos, please follow me on Instagram to see my newest shots.
You will find my Frankfurt photos with the Hashtag #MaryKwiznessFFM